Architects Of The Illusion is an ongoing sci-fi action epic, setting us down in a future far after Earth's demise. The star system of Arela threatens to be torn apart, both by factions within and darker threats from the depths of space; the Fireseed mercenaries and their allies – a coalition of far-flung aliens and the endangered species known as humanity – stand in the face of their world crumbling down.
It all begins with Seed Of Treachery, and continues in The Great Scourge.
Seed Of Treachery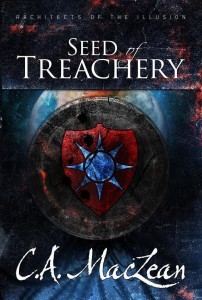 "But here, I can do something real…where I don't have to turn away, where those that do wrong…I can – I will – bring them down."
Earth is long-gone. In a distant future where the endangered species known as humanity has assimilated into a much broader tapestry, the star system of Arela is at the brink of war with itself. What measures are right and wrong in the moral vacuum of space?
Join the last vestiges of the human race, the birdlike Arkerians, technological Terraxins and others in the first installment of Architects Of The Illusion. Though the galaxy may be won by the bolts of blasters and forbidden sciences, darkness lurks just beyond the corners of perception…
313 pages. Originally released in 2012. Cover art is done by the inimitable Robert Stjärnström, also known for his work in Machinae Supremacy. Get yours here!
The Great Scourge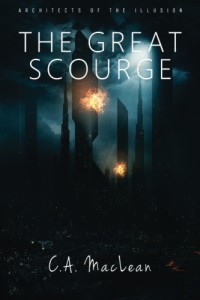 "We looked to the stars, and the stars looked back."
Tension grips the star system of Arela, picking up the pieces after the Jagged Edge conflict. But the still has been shattered by the rise of an ancient foe.
Caught between new allies that force the faltering Fireseeds to the fringes of science, and revelations echoing from humanity's past, the galaxy stands between extinction and revolution. The Scourge saga begins: the Fireseeds and their allies leap into interstellar action against an enemy far beyond reckoning.
502 pages. Originally released in 2014. Cover art is done by the talented Tomi Skantz of Samuraj. The adventure continues here!
Additional Material
The Arthur's review of Seed Of Treachery can be found here!
My interview with Infinite Pathways! I talk inspiration, the creative process, speculative-fiction worldbuilding, and so much more!
Seed Of Treachery is featured at Sneak Peak! Sneak Peek gives readers free glimpses into all kinds of novels; seen here, Eva finds herself in a fine cliffhanger with a desperate solution…